The Niagara Falls hotel closest to all the action
Quality Hotel Fallsview Cascade is the best located Niagara Falls hotel in the area as it is conveniently located in the very heart of the Fallsview hotel, dining and entertainment district. We are the closest hotel to the Falls and literally just steps away from Niagara's favourite attractions including the Hornblower Niagara Cruises, Skylon Tower, Niagara Parks and Clifton Hill.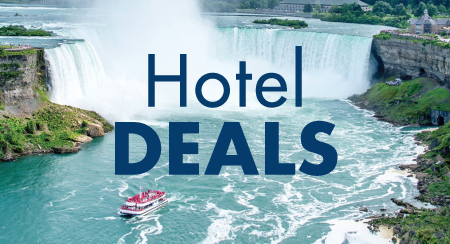 It's not often that we can take time off from our busy schedules to plan a getaway, but it's something we all need to make time for to help us get through the hustle and bustle of everyday life.  Niagara Falls, Canada is one of the top destinations to enjoy a fun-filled getaway for those near and far.
Niagara Falls has so much to choose from it is best experienced over a few days, you'll want to book your hotel stay close to the Falls and within the entertainment district.  Quality Hotel is the best located hotel in Niagara, just steps away from the Falls, the sights and sounds of Clifton Hill and the Skylon Tower.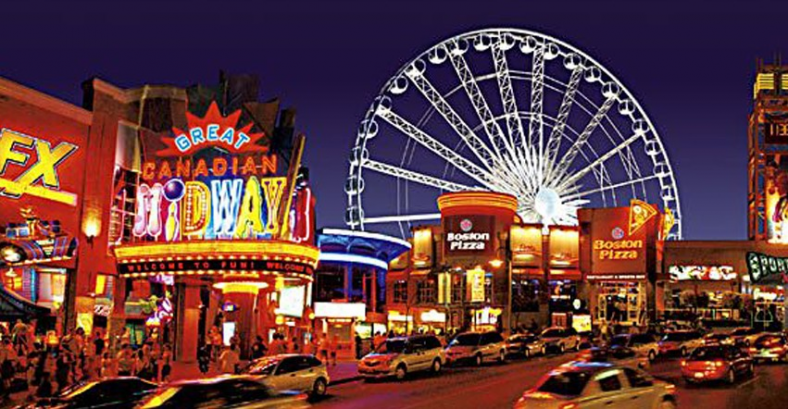 Here are some things to do during your stay in Niagara Falls:
Bundle, or sunscreen, up (depending on the season!) and take a walk through Queen Victoria Park alongside the Falls. Capture family photos with the beautiful Falls as the perfect backdrop.
Enjoy the Great Canadian Midway which has interactive rides and games for people of all ages! From old favourites like Skee-Ball and Roll-a-Ball to new hits like Super 21 and Deal or No Deal, there is something for everyone.
Enjoy the view of the Falls and Niagara's entertainment district from 775 feet above the Falls when you take an exciting ride up to the Skylon Tower.  
Whether you're planning a romantic getaway with your significant other or a fun-filled weekend with the whole family, you'll find the hotel deal you're looking for at one of the best-located hotels in the Niagara area - Quality Fallsview Hotel Cascade.  
We offer great packages that will save you money and allow you to spend more time exploring and less time planning. The Top Attraction Package includes things like dining, free parking, admission tickets to Niagara's favourite Attractions: Niagara Fury, Butterfly Conservatory, WeGo Transit, Journey Behind the Falls, and more. View all of our packages here!
Don't miss out on all the excitement happening here in Niagara Falls, Contact Quality Inn today and book your reservations in advance.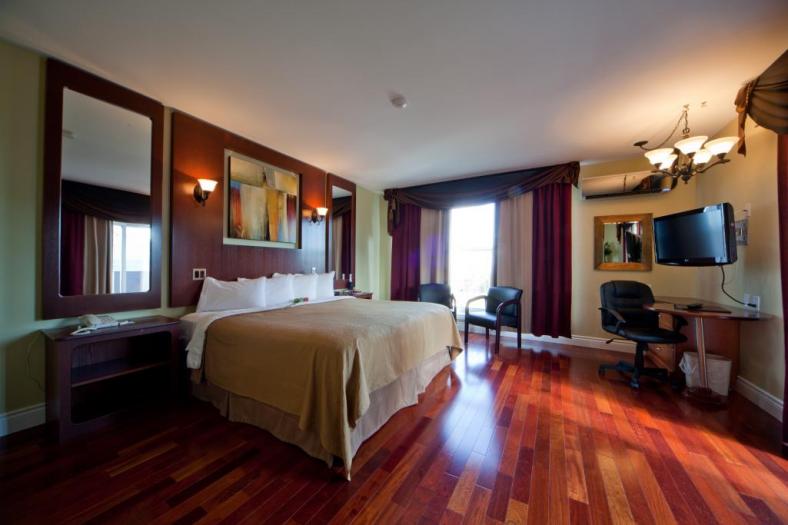 Why Quality Hotel Is One of the Most Affordable Hotels in Niagara Falls
Quality Hotel Fallsview is one of the most affordable hotels in Niagara Falls. Why is it so affordable compared to other hotels nearby? Our boutique hotel is smaller than other hotels in the area, which allows staff to focus on meeting guests' needs and exceeding expectations.
Our guests also enjoy a number of in-room amenities, included in the price of your stay, such as:
Free high speed Internet
Coffee maker
Desk
Hair dryer
Iron and ironing board
Individual climate control
Our hotel also offers guests free Wi-Fi Internet connection and free daily newspapers. Plus, with our free parking lot that accommodates vehicles of all sizes (including trucks and buses).
Want to keep the kids busy? They'll love our indoor heated swimming pool.
Complimentary continental breakfast that's more than just pastries
Nothing is more frustrating for travellers looking to start their day off with a nutritious meal than finding out their complimentary breakfast is actually a stale danish and old coffee.
At Quality Hotel Fallsview our complimentary breakfast will give you the fuel you need for the rest of the day. Enjoy a truly Canadian breakfast including hot scrambled eggs, cooked sausages, waffles, cereal, juice and muffins. And, our coffee bar is open 24-7, always freshly brewed so that you can grab a coffee and go, no matter what your schedule is like.
Worry-free fun
At Quality Hotel Fallsview your enjoyment and comfort is our top priority. Our friendly and professional staff ensure your trip is fun and relaxing by helping you take care of the details. Whether you're looking for recommendations on travel packages, attractions, nearby shopping or restaurants, we know the must-see spots and tourist traps to avoid throughout the Niagara region.
Located right in the heart of the Fallsview area, Quality Hotel Fallsview Cascade is centrally located near all of Niagara's famous attractions and entertainment, including:
The Fallsview Casino
Casino Niagara
Outlet shopping
Restaurants like Coco's Terrace right next door
Tourist sights and attractions including the Falls themselves, Niagara Falls Skylon Tower, Marineland, Niagara Park's  Butterfly Conservatory and Niagara Falls Bird Kingdom.
So what are you waiting for? If you're looking to stay at one of the most affordable hotels in Niagara Falls and also want to be comfortable and centrally located then don't wait. Reserve your room now and start looking forward to your Niagara Falls vacation.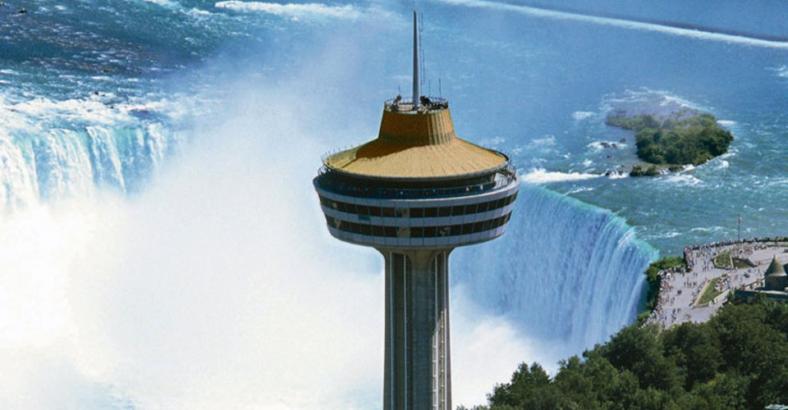 Get the Best Hotel Deals in Niagara Falls, Canada
Niagara Falls is a whole different experience in the Summer.  With all of the attractions and restaurants in full swing, it'll be quite the task to fit all the fun into just one day! Tourists are pouring in from all over the globe and local residents come out for a good time. People love Niagara Falls because of all fun and entertainment that is within walking distance from the majestic Falls.  
Planning a visit to Niagara doesn't mean you have to break the bank.  You can find the most affordable hotel deals in Niagara Falls, Canada at Quality Hotel Fallsview Cascade, one of the best located hotels in Niagara. We are located right next to the famous Skylon Tower and across the street from the Fallsview Casino.  We have some of the cheapest hotel prices in the heart of Niagara's entertainment district.
When you book your stay with Quality Hotel Fallsview Cascade you can make the most of your visit with our affordable packages that including your hotel stay, dining, attractions, Casino tokens, discounts, and more.  No matter what the occasion is, whether you're planning a relaxing weekend or a family fun time, here are some of our best packages available:
2 Night Super Niagara Falls Dining Package
2 nights accommodations
Dinner one night at the Skylon Tower's Revolving Dining Room
Dinner one night at Coco's Terrace Steakhouse
Breakfast each morning at Coco's Terrace Steakhouse
15% off selected Skylon Tower souvenir outlets
Dinner at the Skylon Tower will surely be the highlight of your trip.  Enjoy a spectacular lunch or dinner 775 feet above ground, with the ultimate view of the Falls in the world famous restaurant on a revolving floor.  You can also enjoy wood-fired pizzas or steaks, and live entertainment (after 7 p.m, in season only) at Coco's Terrace steakhouse, a premium restaurant in Niagara.
Two nights deluxe accommodation in beautifully appointed room
Admission tickets to Niagara's favourite Attractions:

Niagara Fury
Butterfly Conservatory
We Go Transit
Journey Behind the Falls

Two Consecutive Days of WEGO Bus Transportation Provided - Kids Stay & Eat Free (12 & Under)
The Top Attractions Package is a great for families with children and is an affordable option for a family summer vacation.
Once you arrive at our newly renovated hotel, you'll have the comfort of your own home in one of our comfortable and spacious guest rooms.  Unload your bags and explore all the lights and sounds of Clifton Hill.  Our hotel is just a 5 minute walk from the largest outdoor arcade in Ontario, the Great Canadian Midway.  It's the ultimate place for family fun, where you can win tickets and redeem them for great prizes! On the way to see the Falls, stop in at the Fudge Factory and pick up something sweet to satisfy your cravings for the entire trip.  
Check out some of our other deals and packages which include Casino tokens or have a day of golf at your choice of Niagara's finest golf courses.  Rates may vary during weekends.  Don't waste money on parking, when you book your stay with Quality Hotel Fallsview Cascade, parking is always free on-site.
The more you can save on accommodations, the more you can do in Niagara. Get the best hotel deals in Niagara at Quality Hotel Fallsview Cascade.   Contact us and book an easy, fun-filled, and affordable vacation today, call 1-800-663-3301.