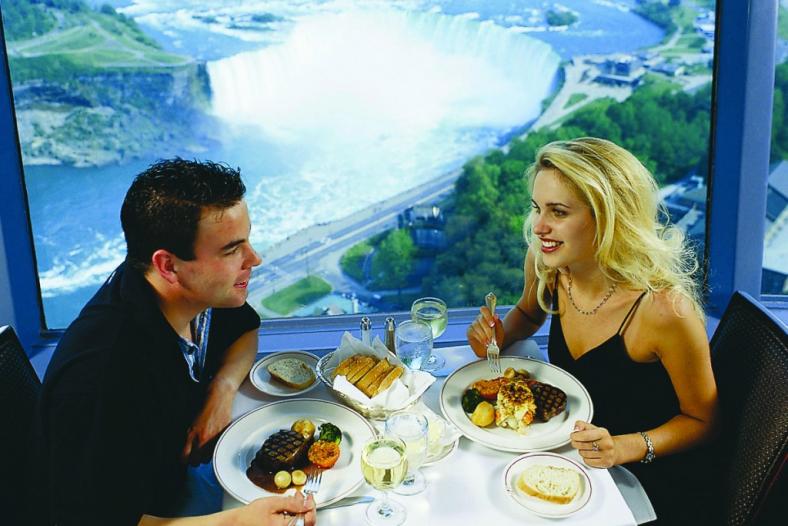 The hotel in Niagara Falls that's surrounded by the finest restaurants in the area
There are many hotels in Niagara Falls, but there is no other hotel in Niagara Falls that is front and centre to the best dining experiences in the area. Choose from the ultimate in Fallsview dining at the world-famous Revolving Dining Room high atop the Skylon Tower right next door. At the height of dining excellence their award-winning continental cuisine is present 775 feet above the Falls. Lunch or dinner, the menu is rivaled only by the spectacular view. Whether you come for a romantic dinner for two, a special celebration or a family outing, the Skylon Tower dining experience promises to be the highlight of your visit to Niagara Falls.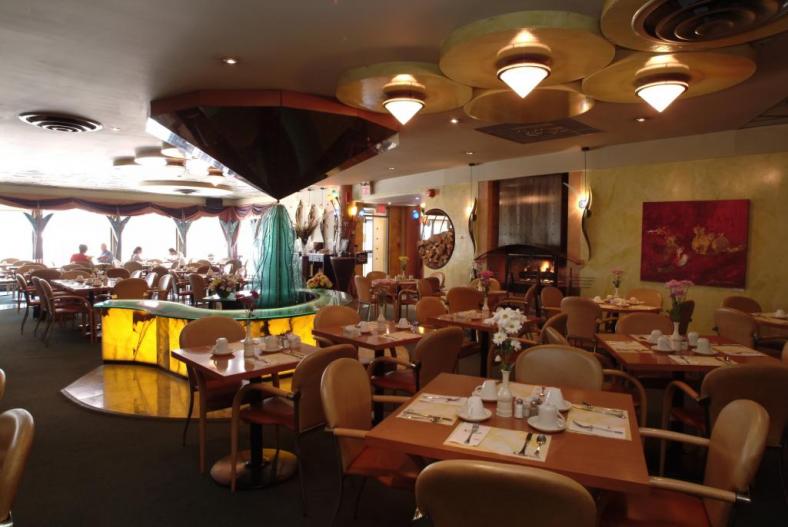 Relax and enjoy as you revolve silently 360 degrees once each hour. Dine by night and you'll discover the magic of the Falls Illumination, dazzling city lights below and seasonal Falls Fireworks. Enjoy great savings with their Early Dinner Special at 4:30 and 5:00 pm daily. Or for the very best in family-affordable Fallsview dining try the Summit Suite Buffet also at Skylon Tower. Also 775 feet above the Falls, the Summit Suite Buffet offers Niagara's finest all-you-can-eat-buffet with a once-in-a-lifetime view of the Falls. And admission to the Ride-to-the-Top and Observation Decks attraction is always FREE when dining.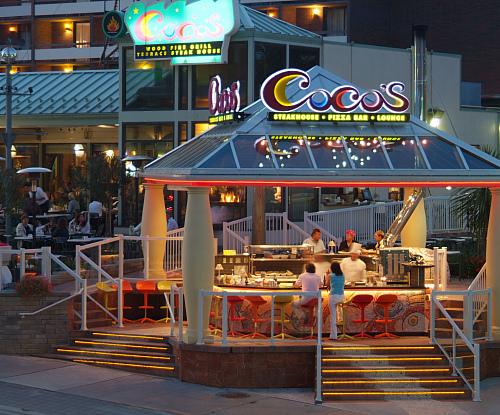 Or try out Coco's Steakhouse and Terrace Grill next door at Holiday Inn. Dine indoors next to a cozy fireplace in Coco's Steakhouse or experience Niagara's ultimate outdoor Fallsview patio. Here you'll enjoy terrace dining under starlit skies amongst flaming torches and Niagara Falls' only patio bonfire. Complete with Tiki bar, outdoor wood-fired pizza oven, whole roast outdoor rotisserie along with nightly entertainment makes Coco's patio the place to be. Relax with friends, indulge in great food and good times at Coco's.
And the rest of Niagara Falls favourite restaurants are also all within easy walking distance from your hotel room. Quality Hotel Fallsview Cascade is ideally situated in the very heart of the Fallsview Dining and Entertainment district. There are many Niagara Falls hotels to choose from for your stay, but if you are looking for the best located Niagara Falls hotel that is close to a wide array of dining options, then Quality Hotel Fallsview Cascade is the place for you.